Feelin' Groovy
The Best of 60's Pop
2016 Production of the NoneSuch Playmakers
Featuring The Treblemakers
Directed by Brack Llewellyn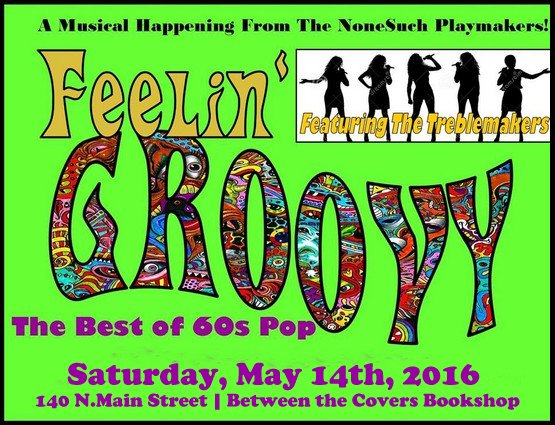 Performance Dates & Locations:

Private Event




Four Seasons, Greensboro, NC

Wednesday, June 15, 2016



Private Event

Thursday, June 2, 2016



Between the Covers Bookshop

140 N. Main Street - Mount Airy, NC |

Click for Directions Saturday, May 14th, 2016: 3pm-5pm


FREE performances! The Treblemakers will perform several songs from our hit revue as you shop at the bookstore! Come out, buy a book (or more than one!) and enjoy the music as you shop! (Next to the Earle Theater.) Proceeds from this bookshop go to the Friends of the Public Library.

L.H. Jones Auditorium
Family Resource Center - Mount Airy, NC | Click for Directions
Friday, April 29, 2016: 7:30pm
Admission: $10.00 Tickets at the door!

Private Event
Friday, April 8, 2016
Greek Conference Center, High Point University, High Point, NC

Stokes County Arts Council | Winter Dessert Theatre Series
The Dogwood Events Center
232 Newsome Road - King, NC | Click for directions.
Saturday, March 19, 2016: 7pm
Dessert served one hour prior to performances!
$12 Adults | $5 Students | $10 SCAC Members
Tickets through the Stokes County Arts Council | 336.593.8159





See Our Promo for Feelin' Groovy - Click below!



The Show:

The Sixties are back! Join the NoneSuch Playmakers' all-girl vocal group "The Treblemakers" as they perform some of the top pop hits from 1964 to 1969 in "Feelin' Groovy," our new music revue! Hear classics by The Monkees, The Beach Boys, Martha and the Vandellas, The Beatles, The Fifth Dimension, The Mamas and The Papas and many more! Our music revues are always great, but "Feelin' Groovy" will make NoneSuch history! Dates and locations are still in the works. Stay tuned in to our Facebook page and keep watching our website for more info. It's gonna be far out, man!
The Music:

Just a sample of what you will hear:

Put A Little Love In Your Heart by Jackie DeShannon
Dancing In The Street by Martha and the Vandellas
Ain't No Mountain High Enough by Marvin Gaye
The Sound of Silence by Simon and Garfunkel
Turn, Turn, Turn by the Byrds
Happy Together by The Turtles
..... and dozens more!

Plus - our tribute to the late David Bowie!


The Cast:


Shanna Jones
Angela Llewellyn
Cindy Marion

and introducing:
Elizabeth Martin


with:
Olivia Jessup...........................................Go Go Dancer
Madison Mallory....................................Go Go Dancer
Madeline Gammons...............................Go Go Dancer



The Crew:

Brack Llewellyn...................... Narrator & Mics
Brian Greene........................... returning as Milo Sound (60's edition)
Randall simmons, Jr............... Box Office
Joey Marion............................. Choreography Assistance
95 Performance, Cast, & Rehearsal Photos!