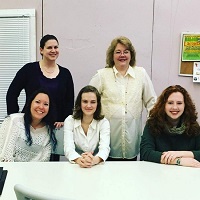 THE LATIN BELOW THE LION—The Play Selection Committee of the Melvindale Merrymakers theatre group is meeting on a cold winter's night with a great and daunting responsibility: choose the plays for the group's next season. Five smart and funny women gather around the table to chart the Merrymakers' course for the year. Is it time to bring back "Grease," even if the cast is mostly middle-aged now? Should they revive "Camelot," putting swords in the hands of amateurs? Can you actually do "Music Man" if your lead actor has no rhythm? It looks like another ordinary season is in the works, then an intriguing suggestion from a committee member sparks a spirited debate about art, entertainment and friendship. Directed by NoneSuch co-founder Angela Llewellyn.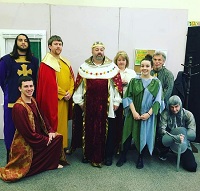 TEOTWAWKI (The End of the World As We Know It)—Remember 1999, when we all lived in fear that the dreaded "Millennium Bug" would crash our computers on December 31st and bring down civilization? Turns out that's not the first time we freaked out about the new millennium. Welcome to New Year's Eve, the year 999. The astrologers are predicting doom! The bumbling King and his befuddled court are helpless, caught up in the chaos! Their only hope lies with an ancient magician from the far mountains! Can the King's intrepid guards find the sorcerer in time? Can he stop the coming apocalypse? Will the Old World survive?? Well, since we're all still here, we'd say the answer is yes. But saving the world with these silly twits is a hilarious half-hour that would make Monty Python proud!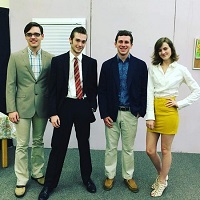 BESTSELLER — Beekman Publishing has built its fortune and reputation on a single author: Windham Delaney, a master of the "light-romance-tragedy-inspirational-fairytale." All is well (and very profitable) until the unpredictable writer follows his muse into the world of "great books." His latest submission i a work of literary genius - and a guaranteed flop with his readers. Desparate to keep the gravy train on the tracks, the Beekman brothers hatch a plot straight out of Edgar allan Poe (by the way of the Three Stooges.) "Bestseller" is a new play by NoneSuch co-founder Brack Llewellyn. Be a part of our premier audience for this fast-paced farce!

The Cast & Crew of

"The End Of The World As We Know It"

Brian Greene........................................
The King
Jonathan Jones.....................................
The Bishop
Randall Simmons................................
The Lord Chancellor
Randy Sprinkle...................................
The Duke of Feckless
Brack Llewellyn...................................
Harbinger
Angella Llewellyn...............................
The Queen

And Introducing:
Grant Perry...........................................
The Guard





The Cast & Crew of

"The Latin Below The Lion"

Jessica Llewellyn.................................
Paulette, a soccer mom
Angela Llewellyn................................
Tess, a bookstore onwer
Olivia Jessup........................................
Jo Ann, an industrial graphic designer
Angela Bryant......................................
Stephanie, a music director - and the
community theater director
Madison Mallory.................................
Emily, a boutique owner



The Cast & Crew of

"Bestseller"

Jake Pack..............................................
Barney Beekman
Olivia Jessup.......................................
Amy Radomski
Randy Sprinkle..................................
Windham Delaney


And Introducing:
Colin Anderson.................................

Conrad Beekman


Todd Jessup...........................................




Lighting

Brack Llewellyn.....................................

Sound

Jessica Llewellyn.................................

Sound




Also Introducing:




Kristin Sands...........................................




Hostess & Narrator for our performances