Love, Loss, and
What I Wore
2019 Production of the NoneSuch Playmakers
Written by Nore Ephron & Delia Ephron | Directed by Brack Llewellyn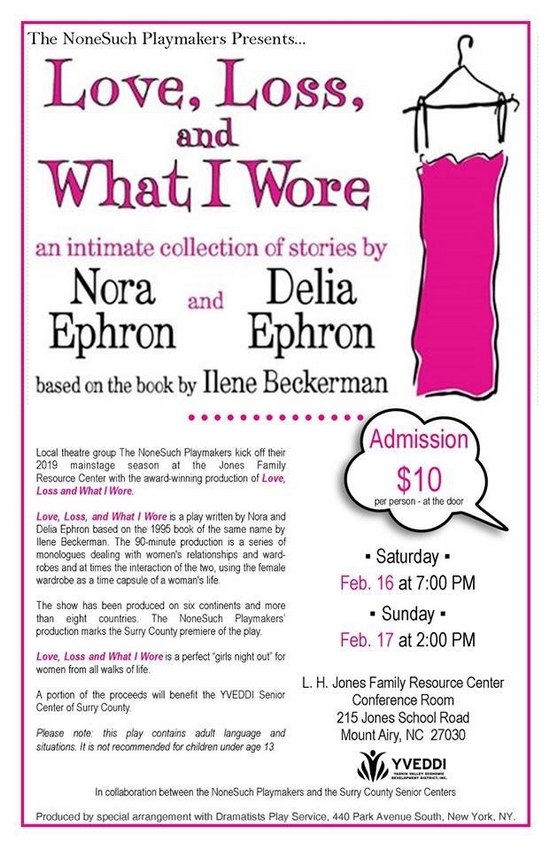 Performance Dates & Locations:
L.H. Jones - Conference Room
Family Resource Center - Mount Airy, NC | Click for Directions
Saturday, February 16, 2019: 7:00pm
Sunday, February 17, 2019: 2:00pm
Admission only $10 at the door!



The Plot:

Love, Loss, and What I Wore is a reader's theatre event, written by Nora and Delia Ephron, based on the book by Ilene Beckerman. The play deals with women's relationships and wardrobes, and the interaction of the two. Your Brownie uniform, your prom dress, your wedding dress, etc. Two shows, Saturday, Feb. 16, at 7pm, and Sunday, February 17, at 2pm. Tickets are $10 each. Part of the proceeds benefit the Surry Senior Center and the Jones High School Alumni.




The Cast:

Jane Tucker
Angela Bryant
Billie Smith
Denise Ward
And Introducing:
Sharon Gates




The Crew:

Brack Llewellyn
Angela Llewellyn
Jessica Llewellyn


Read the Mt. Airy News article here!
25 Photos!